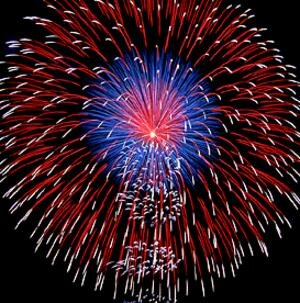 I just LOVE the 4th of July. It is one of my most favorite holidays, for many reasons.
Growing up living in a small middle American town we had the most AMAZING celebrations. The town of about 1000 would swell for one night to close to 10-20,000!! Yes, the show is THAT good! If you are ever in the area, you should stop by! They still put the firework show on and it is truly magical, very Mayberry-ish.
If you are looking for some ways to check out today's post from
Tip Junkie
(love her!). Such CUTE ideas, all the time not just today. Be sure to sign up to receive her email updates, you will not be disappointed!
One of her featured bloggers today comes from
The McIllece Spot
. I just found this blog because of TJ and oh my goodness! I am in love! SUCH cute things! Amber was featured on TJ for her CUTE
flip flops
she made. She was kind enough to do a tutorial for these. I made some of these last year but used strips of fabric rather than ribbon. You can use this idea for ALL kinds of things. If you have older girls this would be fun to do for a sleepover craft. Enjoy!